coming soon a drawing for a 1950 ford f1 truck stay tuned for the details
Chapter 26 Coming to the aid of veterans in our community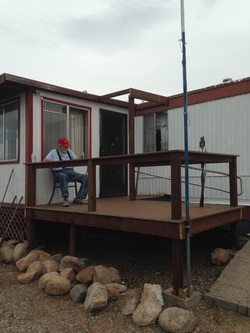 WW2 Veteran, Walter sitting on his new porch. Chapter 26 became aware of this 92 yr. old WW2 Veteran living in a very unsafe condition. His deck was in very bad shape and was a hazard to the Veteran.

​Chapter 26 volunteers donated all of the time and funds to repair the deck for this Veteran.

​That is what it is all about, Veterans reaching out to help Veterans.



---
Contact Us


Service Officers Available Mon - Fri
​Chapter Commander : Joseph Knoblock

EMAIL ADDRESS / davaz26@qwestoffice.net

TELEPHONE NUMBER

520-586-8575

Meeting Address
​770 E. 4th St. Benson AZ.

770 E. 4th St. Benson AZ.